Contemporary & Traditional Ceramics in Eastern China 6th – 30th October 2013 Tour with Christine-Ann Richards
Art & Adventure are two of the strands that Christine-Ann Richards has successfully used over the years in planning her travels in China and central Asia. Her first visit with other members of the Craft Potters Association in 1978 has led to an on-going affair with the culture, the country and the peoples of China. This interest in the art, archaeology and philosophy that make up the history of the area have led to many a detour 'off the beaten track', which in her travels she seeks to share with others.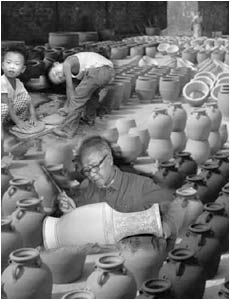 Christine-Ann Richards 10th Anniversary Tour with Li Wenying, Programme Director Sanbao Ceramic Art Institute.
Travelling overland from Shanghai to Yixing (teapots) and Tao Yao where they still make large coil pots fired in a dragon kiln.  Huangshan, the Yellow Mountain made famous in classical Chinese paintings. Hangzhou on West Lake and Longquan both known for their ceramics including celadon wares.  Jingdezhen, the porcelain capital of China, in time for the opening of its International Ceramics Festival.   Included in the price of the tour is the gift of a 'free' week from Wenying in celebration of our decade of travelling together.   There will be ten days of workshops at Sanbao with, at the end of the tour, the possibility of returning home with some of our own work.   Option to stay on at end of tour on a 1 – 3 week residency at Sanbao.   Landprice approx. £2,000
mail@christineannrichards.co.uk